The New Library, Magdalene College
by Niall McLaughlin Architects
Client Magdalene College
Awards RIBA East Award 2022, RIBA National Award 2022 (sponsored by Forterra) and RIBA Stirling Prize winner 2022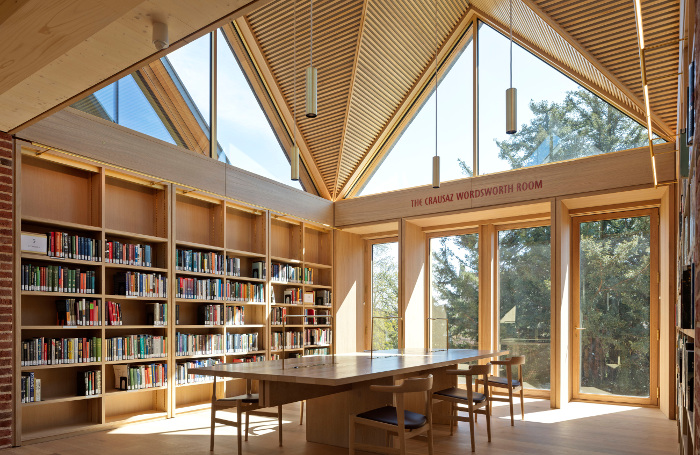 The Royal Institute of British Architects (RIBA) is a professional body for architects primarily in the United Kingdom, but also internationally, founded for the advancement of architecture under its royal charter granted in 1837, three supplemental charters and a new charter granted in 1971. Founded as the Institute of British Architects in London in 1834, the RIBA retains a central London headquarters at 66 Portland Place as well as a network of regional offices. Its members played a leading part in promotion of architectural education in the United Kingdom; the RIBA Library, also established in 1834, is one of the three largest architectural libraries in the world and the largest in Europe.
The RIBA also played a prominent role in the development of UK architects' registration bodies. The institute administers some of the oldest architectural awards in the world, including RIBA President's Medals Students Award, the Royal Gold Medal, and the Stirling Prize. It also manages RIBA Competitions, organising architectural and other design-related competitions.
The RIBA was historically a male-dominated body, first admitting women members in 1898, and appointing its first female president in 2009. Sometimes perceived as a London-centric organisation, it has also been accused of lacking transparency.
The RIBA – Royal Institute of British Architects Stirling Prize is a British prize for excellence in architecture. It is named after the architect James Stirling, organised and awarded annually by the Royal Institute of British Architects (RIBA). The Stirling Prize is presented to "the architects of the building that has made the greatest contribution to the evolution of architecture in the past year". The architects must be RIBA members. Until 2014, the building could have been anywhere in the European Union, but since 2015 entries have had to be in the United Kingdom. In the past, the award included a £20,000 prize, but it currently carries no prize money.
The award was founded in 1996, and is considered to be the most prestigious architecture award in the United Kingdom. The Stirling Prize replaced the RIBA Building of the Year Award. The Stirling Prize is the highest profile British architectural award, and the latest 2022 edition.
RIBA Stirling Prize winner 2022: The New Library, Magdalene College